Cruise Line Sued Again In Miami – This Time It's NOT About Covid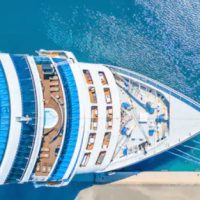 Most Americans are well aware of the various issues cruise lines have been having over the last few years. The pandemic hit the cruise industry like a freight train, and various cruise companies will take years to fully recover. Florida has long been a hotspot for cruise vacations, and it has attracted tourists from all over the world over the years. Unfortunately, the pandemic didn't just affect these cruise lines financially. It also affected them legally. These cruise ships have faced various lawsuits for exposing people to Covid-19 – although most of these lawsuits have been unsuccessful.
However, the pandemic isn't the only reason cruise companies are being sued in Miami. Royal Caribbean is now being sued for a very different reason. Passengers were outraged to learn in December of 2019 that they were being taken to a live volcano. Now they are continuing with their lawsuit, arguing that the cruise line is guilty of gross negligence for exposing them to the obvious threat of an eruption.
If you're involved with any kind of commercial or business litigation, you should get in touch with a qualified, experienced attorney as soon as possible. Connect with a lawyer who understands these practice areas, and you can give yourself a much better chance of success – whether you're suing a company or defending your own company against a lawsuit. With an attorney by your side, it becomes much easier to pursue a positive outcome.
Royal Caribbean Advertises Questionable Volcano Tour 
In 2019, Royal Caribbean promised tourists the experience of a lifetime. They advertised a trip to New Zealand, which would include seeing an active volcano up close. Tourists would have the chance to hike right next to bubbling pools of lava. Of course, they would have to wear gas masks in order to survive this toxic environment. The excursions continued until December of that year, when the volcano erupted and spewed lava across the area, killing 22 people. 38 Royal Caribbean tourists were in the blast zone at the time. Those who didn't die suffered serious burns that required extensive skin grafting.
Victims Sue Royal Caribbean in Miami 
Victims are now suing Royal Caribbean in Miami, where the company is headquartered. Plaintiffs have argued that the tour was advertised improperly to suggest that the risk was much lower. These lawsuits also accuse the cruise line of failing to inform tourists that the volcano had a history of past eruptions during the last few years. Plaintiffs have also argued that the tour should have been canceled due to scientific data suggesting the volcano was going through a period of intense activity.
Enlist the Help of a Qualified Attorney Today 
If you need assistance from a skilled Miami business & financial dispute attorney, reach out to Alhalel Law. Over the years, we have helped various Miami residents with their lawsuits. With a range of effective strategies under our belt, we can guide you towards a positive legal outcome in the most efficient way possible. Book your consultation today, and we can discuss your options together.
Resources:
theguardian.com/world/2021/jun/18/royal-caribbean-fails-to-stop-us-lawsuit-by-australian-survivors-of-white-island-volcano#:~:text=Two%20Australian%20survivors%20of%20the,which%20also%20severely%20injured%20Stephanie.
miaminewtimes.com/news/royal-caribbean-white-island-volcano-lawsuit-13646547